Welcome to Avis
Building #305 Federal Circle
Jfk International Airport
Jamaica
11430

Opening Times
Monday

Open 24 hours

Tuesday

Open 24 hours

Wednesday

Open 24 hours

Thursday

Open 24 hours

Friday

Open 24 hours

Saturday

Open 24 hours

Sunday

Open 24 hours
24-hour drop-off

New York Car Hire with Avis
Relax and enjoy your New York car rental with Avis, and benefit from the peace of mind that comes with:
Over 60 years' car hire experience.
A commitment to the highest levels of service.
Convenient pick-up locations around New York.
Options like GPS, child seats and one-way car hire from New York.
Green cars, luxury cars, family cars and fun cars.
24 hour, weekend, weekly or monthly car hire in New York.
Discover New York
New York is one of the most important metropolitan city in the world. New York City, with a population of over 8,000,000 people, is the most populous city in the United States. It is known for its status as a financial, cultural, transportation, and manufacturing center and for its history as a gateway for immigration to the United States.
The main attractions in New York are Time square, Central Park to the Empire State Building and The Metropolitan Museum of Art, also you can have some dinner in the most up to date restaurant and clubs of the city.
Every borough offers points of interest and places you'll want to explore. Discover New York through its attractions and landmarks, or visit the City's neighbourhoods.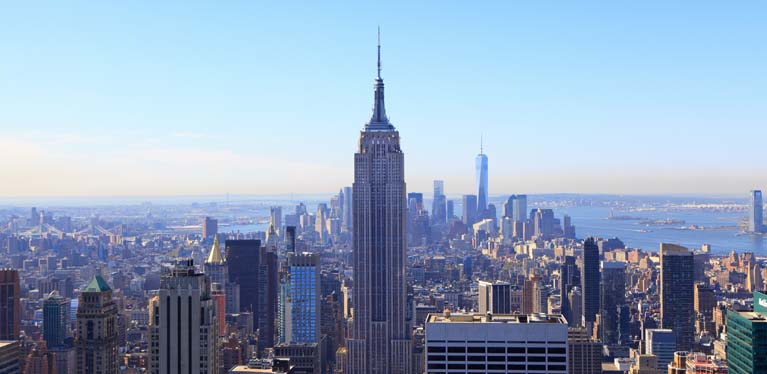 Some quick tips:
There is no RIGHT-TURN-ON-RED in NYC unless there is a sign permitting it. It is illegal in the five boroughs of NYC. PLEASE do not make right turns at red lights. People do get tickets, especially as they come in from NJ or have out-of-state plates.
The speed limit on city streets is 30 mph, and on highways within city limits it is 50 mph, unless otherwise stated.
Have cash for tolls for the bridges and tunnels. Or, you can use an automated toll system (EZ-pass).
The highways are referred to as "highways", "parkways" or "expressways", not "freeways". Also they typically use the names of highways (Brooklyn-Queens Expressway), not route numbers (278).