Welcome to Avis

Istanbul Car Hire with Avis
Relax and enjoy your Istanbul car rental with Avis, and benefit from the peace of mind that comes with:
Over 60 years' car hire experience.
A commitment to the highest levels of service.
Convenient pick-up locations around Istanbul.
Options like GPS, child seats and one-way car hire from Istanbul.
Green cars, luxury cars, family cars and fun cars.
24 hour, weekend, weekly or monthly car hire in Istanbul.
Explore Istanbul with your Avis car
Istanbul is an old city, you can see the remains of many ancient civilizations and their culture in harmony with Turkish culture. The old versus the new, the traditional versus the modern is a conflict a visitor often observes. The city is full of contrasts, and colourful views.
So enjoy one of them:
The diverse ethnicity of the city, is another point which is worth examining. The Minorities sum up to a majority and build up an enormous population.
The main attractions are the Fatih Mosque - Constructed between 1462 and 1470, it bears the name of the Ottoman conqueror of Istanbul, Fatih Sultan Mehmet and is also the site of his mausoleum.
The Istanbul Archeology Museum - The museum consists of three smaller museums namely, The Archeology Museum, Old Eastern Works Museum and Enameled Kiosk Museum.
Also you can visit the popular Kamo's - Located at Manastir Cove on the southern part of Kinaliada and has a capacity of 600 people. You can either treat yourself to a boat trip departing from the Kinaliada port or alternatively dare the 15 min walk.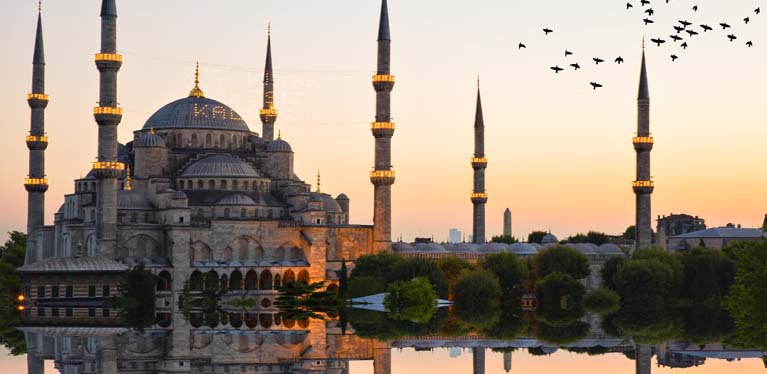 Avis offers car hire in Istanbul from several rental offices:
Ataturk International Airport
Kadikoy
Taksim
Sabiha Gokcen Airport
Some quick tips:
Visitors are reminded to carry their full driver's license from your home country while you drive through Turkey.
In Turkey, you drive on the right side of the road.
Driver's licenses written in anything other than the latin alphabet (i.e. cyrillic, arabic, etc.) are not accepted unless accompanied by a valid international driving license or official translation. This is a requirement for most car rental companies.
Seatbelts are mandatory for all passengers including the driver.